OPEN LETTER TO SAVE SAFE LENDING
Dear Australian Parliamentarians,
The Federal Government has announced plans to axe safe lending laws – essential consumer protections designed to protect ordinary people from the sorts of terrible lending practices we saw during the global financial crisis and banking royal commission.
We are calling on you to stand up for Australians and block this harmful law when it is introduced into Parliament.
People will be worse off.  When people are given loans or credit cards they can't afford, the human cost is high. The banking royal commission heard shocking stories of banks giving aged pensioners 30-year mortgages, relying on fraudulent loan documents provided by car dealers, and paying thousands in kickbacks to loan 'introducers'. We'll see even more of this if banks and other lenders are not legally required to take care when lending.
This will lead to a debt disaster. We are experiencing our first recession in nearly 30 years and high levels of household debt will slow down the national economic recovery. Australia already has the second highest level of household debt in the world. Banks and other lenders should not be given a green light by the government to burden people with even more debt and trap households in a cycle of persistent debt.
This change would contradict the very first recommendation of the banking royal commission. Commissioner Kenneth Hayne called for safe lending laws to be enforced, not dismantled.
We write to you as community organisations, financial counsellors, and thousands of people concerned about the government's disastrous proposal. This policy will hurt people and hinder our economic recovery. These changes will take away people's rights and give more power to the banks.
If this law is passed, people will be left to pick up the pieces for years to come while banks and other lenders are given a blank cheque to profit from aggressive lending. We need you to stand up for our community and protect safe lending laws.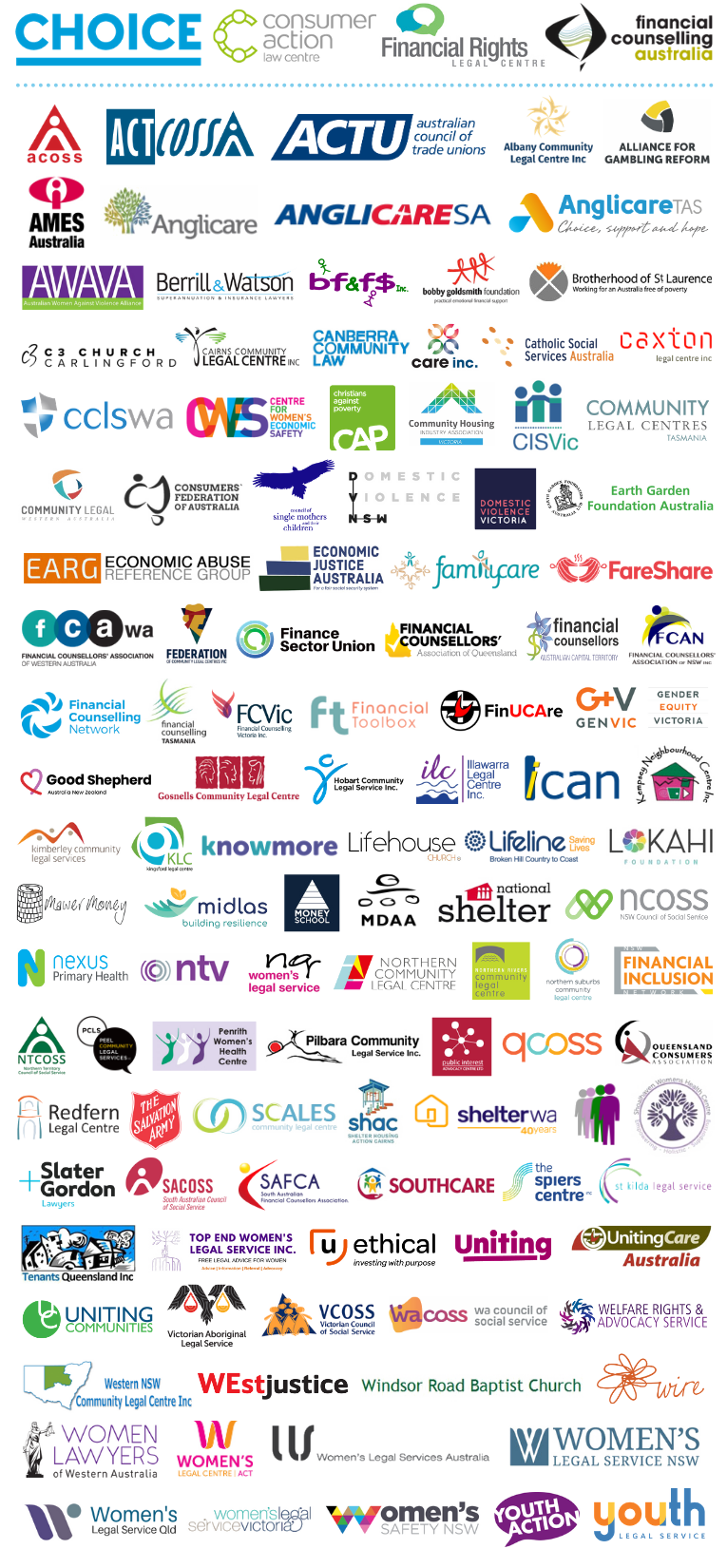 ACOSS
ACTCOSS
ACTU
Albany Community Legal Centre
Alliance for Gambling Reform
AMES Australia
Anglicare Australia
Anglicare Tasmania
Anglicare SA
Australian Women Against Violence Alliance
Bendigo Family and Financial Services
Berrill & Watson Lawyers
Bobby Goldsmith Foundation
Brotherhood of St Laurence
C3 Church Carlingford
Cairns Community Legal Centre
Canberra Community Law
Care Incorporated
Catholic Social Services Australia
Caxton Legal Centre
CCLSWA
Centre for Women's Economic Safety
CHOICE
Christians Against Poverty
Christians Against Poverty Debt Centre Hobart
Community Housing Industry Association
Community Legal Centres Tasmania
Community Legal WA
Consumer Action Law Centre
Consumers' Federation of Australia
Domestic Violence NSW
Domestic Violence Victoria
Earth Garden Foundation
Economic Abuse Reference Group NSW
Economic Justice Australia
FamilyCare
FareShare
Federation of Community Legal Centres
Federation of Community Legal Centres (Victoria)
Finance Sector Union
Financial Counselling Australia
Financial Counselling Network
Financial Counselling Victoria
Financial Counsellors Association Queensland
Financial Counsellors Association Tasmania
Financial Counsellors Australian Capital Territory
Financial Counsellors' Association of NSW
Financial Counselling Association of WA
Financial Rights Legal Centre
Financial Toolbox
Finucare Financial Counselling
Gender Equity Victoria
Good Shepherd Australia New Zealand
Gosnells Community Legal Centre
Hobart Community Legal Service
Illawarra Legal Centre
Indigenous Consumer Assistance Network (ICAN)
Kempsey Neighbourhood Centre
Kimberley Community Legal Services
Kingsford Legal Centre
Knowmore
Lifehouse Christian Church
Lifeline Broken Hill Regional Financial Counselling Service
Mawer Money
Midlas
Money School
Multicultural Disability Advocacy Association NSW
National Shelter
NCOSS
Nexus Primary Health
No to Violence
North Queensland Women's Legal Service
Northern Community Legal Centre
Northern Rivers Community Legal Centre
Northern Suburbs Community Legal Centre
NSW Financial Inclusion Network
NTCOSS
Peel Community Legal Services
Penrith Women's Health Centre
Pilbara Community Legal Service
Public Interest Advocacy Centre
QCOSS
Queensland Consumers Association
Redfern Legal Centre
Salvation Army
SCALES Community Legal Centre
Shelter Housing Action Cairns
Shelter WA
Shepparton Family and Financial Services
Shoalhaven Women's Health Centre
Simple Solutions Accounting Services
Slater & Gordon
SACOSS
South Australian Financial Counsellors' Association
Southcare
Tenants Queensland Inc
The Spiers Centre
St Kilda Legal Service
The Victorian Aboriginal Legal Service
Top End Women's Legal Service
U Ethical
Uniting VicTas
Uniting WA
UnitingCare Australia
UnitingCommunities
Victorian Council of Social Service
WACOSS Western Australian Council of Social Service
Welfare Rights & Advocacy Service
WESNET
Western NSW Community Legal Centre
WEstjustice
Windsor Road Baptist Church
WIRE
Women Lawyers of Western Australia
Women's Legal Centre ACT
Women's Legal Services Australia
Women's Legal Service NSW
Women's Legal Service Queensland
Women's Legal Service Victoria
Women's Safety NSW
Youth Action
Youth Legal Service
Professor Elise Bant
Professor Kevin Davis AM
Professor Allan Fels AO
Professor Dimity Kingsford-Smith
Professor Gail Pearson
Professor Jeannie Marie Paterson
Professor Ian Ramsay
Professor Eileen Webb
Carolyn Bond AO
Robert M C Brown AM
Jenni Mack AM
Denis Nelthorpe AM
Colin Neave AM
Scott Pape OAM
Rod Stowe, PSM, FRSN
Dr Becky Batagol
Associate Professor David Brown
Justin Malbon
Dr Paul Harrison
Nicola Howell
Dr Kayleen Manwaring
Dr Penny Carruthers
Chinelle van der Westhuizen
David S. Thomson OAM
Ben Slade
Irene Savidis
Robert Regan
Grant Stewart
Tracey Walsh
Maria Turnbull OAM
Michele Padbury
Sandra Blake
Nicole Pedersen-McKinnon
John Rawson
Margaret Marie Watts
Betty Weule AM
Conrad Dwyer
Raewyn Darlingto
Joanne Hunt
Merlene Price
Joanne Hunt
Stuart Barber
Sofia Ehrlich
Louise Cormie
Jo Parkin
Ronald Chan
Greg Pendlebury
Dorianne Oliver
Vesna Horley
Linda Burgess
Kristy Wilson
Emylee N Tuzon
Karen Armstrong
Eileen Gibson
Neil Gilford
Victoria Shakeshaft
Bettina Stewart
Nicky Tsalamandris
Caroline Summerfield
Tarryn Mackean
Levi Boschetti
Sarah Clarke (Pace)
Jenny Elvey
Debbie Welsh
Shyam Banjade
Sean Bowes
Benjamin McGrath
Alex Mould
Stacey Price
Jasmine Opdam
Naomi Delaney
David Hofierka
Sister Pamela Molony
Mark Ng
Amanda Francis
Matthew Samperi
Robert Gordon Herrgott
Jo Wilson
Simon Risson
Lynda Boyce
Rev. Simon Clemow
Rev. Richard Bott
Gai Walker
Holly Robins
Hutch Hussein
Christine Smith
Dorothy Yao
Yola Walicka
Els De Muynck
Sarah Toovey
Caroline Price
Lauren Thomas
Michael Joyce
Carol Kuisma
Cassandra Cutmore
Linda Richardson